Sarasota is synonymous with water. From its namesake bay to the Gulf of Mexico that lies just beyond, no matter where you find yourself in Sarasota, there's a coast or shoreline a few minutes away.


It's that waterfront access that makes the city and the larger Sarasota County (along with Manatee County to the north) such a draw for those seeking luxury property on or near the water.


Though plenty of people love the waterfront, it's far from a one size fits all proposition.


And therein lies the most underrated aspect of Sarasota: the variety of living options offered along the area's many bays, creeks, canals, and more prominent bodies of water — Sarasota Bay and the Gulf of Mexico among them.


With so many options, what are the key features and amenities buyers are looking for in a luxury waterfront property? Let's explore Sarasota's high-end luxury housing market to find out what tops their lists.
A specific lifestyle
More than anything, waterfront living affords homeowners a specific type of lifestyle. Whether it's an expansive estate on the bay or a high-rise condo with views of the Gulf, a certain cachet comes with a home near the water.


However, the waterfront buyer is highly discerning as to what they're seeking from their residence. It all starts with the specific lifestyle they're striving for.


For instance, the condo buyer is typically after an upscale landing pad that's theirs to use throughout the year. A place for family and friends that eschews the time-consuming burdens of a single-family house in favor of the maintenance-free, all-inclusive lifestyle and upscale amenities steps from their front door. Beyond that, they don't mind pulling in additional income when their waterfront condo is not in use — ensuring the property works for them year-round.


Those wanting a bit more permanency and room to roam favor Sarasota's single-family options — be it a custom build on Bird Key or an even grander estate in the private hideaway of Casey Key. These luxury shoppers prefer the water frontage year-round, or at least more than a few weeks every year.


If you're a seller, it's critical to identify which buyers your property appeals to most. While there may be some crossover — specifically those shopping for second or third homes — recognize the lifestyle your property provides and market it appropriately.
Direct water access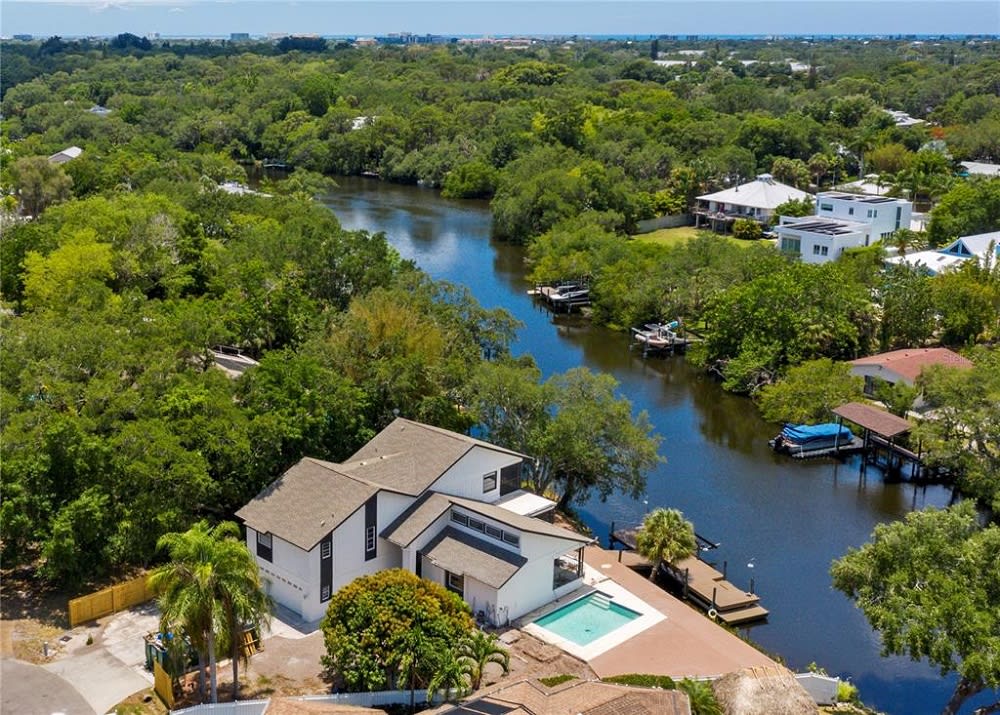 For many homeowners, living along the waterfront represents the pinnacle of their home buying experience. To get the most from their investment, they value access to the water above everything else.
And for the fortunate homebuyer, Sarasota offers plenty of it.


Access starts with the views. The area's luxury condos provide panoramic, Instagram-worthy views of the surrounding bays and the Gulf of Mexico. Lido Key and Longboat Key both have the Sarasota market cornered on stunning, move-in-ready high-rise beachfront condos.


The majority of Sarasota's high-end single-family homes — mansions and larger estates among them — offer views of Sarasota Bay from either the mainland's western edge or the eastern side of the aforementioned keys. Neighborhoods such as Indian Beach/Sapphire Shores allow for more privacy.


While they may lack a condo's panoramas, they make up for it in waterfront access.


The bayside of both Lido and Longboat Keys claim waterfront mansions that back to deepwater channels. Translation — walk out your back door and be on Sarasota Bay in mere minutes.


Further south, Siesta Key offers much the same — large, well-appointed homes backing to an extensive network of canals. Whatever key or mainland neighborhood a homebuyer lands at, they do expect accommodation for their private watercraft, be it a small pleasure craft or a far more opulent yacht.


Venture beyond Sarasota's southern borders, and Casey Key demands a buyer live their best possible beach life. There are no canals here. Instead, grand homesteads and charming bungalows feature direct beachfront access (and by direct, we mean to step out of your backdoor and put your toes in the sand). But again, owing to the area's many lifestyles, there are also beautiful homes with well-maintained private boat docks that back to Blackburn Bay.
Outdoor living space
Try as we might, it's impossible to spend every minute of every day out on the water. The next best thing, of course, is getting as close to it as possible.


Owners who want a waterfront lifestyle love the indoor-outdoor living that many of Sarasota's finest homes provide. More than a simple patio with room for a sitting area and a grill, buyers are after ample amounts of outdoor space.


For starters, a pool and hot spa are absolute musts. When you're talking about homes in the seven to eight figures, buyers expect these two amenities.


Outdoor kitchens are equally high on the backyard wishlist. Coastal homes, in particular, provide buyers a stunning backdrop to whip up their favorite meals for friends and family. Cooking areas that are de facto extensions of their indoor counterparts are popular.


In addition, buyers also want multiple seating areas — for dining and entertaining — with tiered areas preferred for their versatility.


There's also an expectation for the home's dock to be more than a boat slip. As well maintained as the rest of the house, the backyard dock should accommodate a sitting area and room for a small grill and table for people to get the most from the water's edge.


To frame it all, new home buyers appreciate lush South Florida foliage — both for privacy and the dramatic tropical atmosphere it creates.


For sellers hoping to make a home's outdoor area pop, stage it as you would the interior of your home. Coastal homes are made to take advantage of every last square foot of exterior space. Dress yours up to show off the year-round outdoor vibe buyer's seek.
Luxury accommodations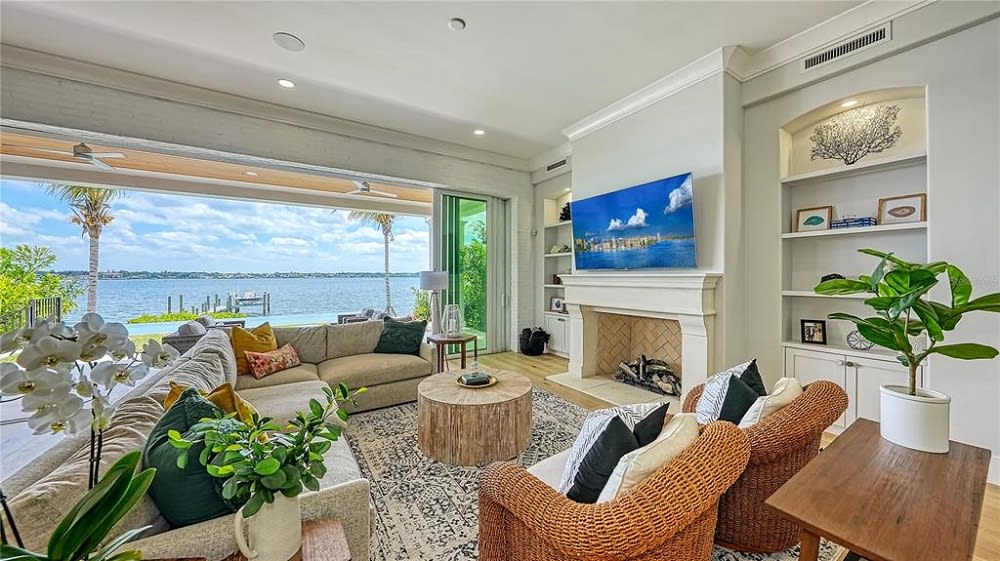 While access and proximity to Sarasota's coastlines and waterways sit at the top of buyers' wish lists, realize that the primary investment remains the home itself. And luxury buyers expect a lot from their waterfront homes.
Unless they're buying property to tear down to make way for new construction, move-in-ready homes are in high demand. The vast majority want those homes to include copious amounts of modern convenience.


Once reserved for only the ultra-wealthy, smart home automation has never been more accessible. The luxury home buyer expects properties on their tour to already possess intelligent tech integrated into the home.


Homes with smart thermostats and security systems, voice-activated technology or solar roofs, or electric vehicle charging stations will rise above those without these high-tech features.


Beyond automated living, luxury buyers want a house that offers flexibility. We've already touched on a home that supports a specific waterfront lifestyle and those with indoor-outdoor living. But luxury goes well beyond Sarasota's coastal appeal.


Homes that accommodate generational living with multiple en suites or second kitchens or those with dedicated home offices serve the changing priorities of today's high-end home shopper. Flex spaces such as playrooms and home gyms are also in demand as buyers look to make the most of their investment.


The luxury condo buyer may not have similar requirements as those seeking single-family mansions (though automation is critical here too). Still, they do expect their new home and their new building to meet a certain threshold.


Amenity rich buildings — those with 24-hour security, on-site management, concierge, private parking, expansive terraces, access to resort-style amenities, such as a clubhouse, fitness center, sauna and massage rooms, heated swimming pool and hot tub, sundecks, and beach access — are the most sought after in Sarasota.


Ultimately, buyers in Sarasota are after luxury — and lots of it. The fact a home sits on or near the water is simply a bonus (granted, an in-demand bonus). For sellers hoping to attract the right buyers to their Sarasota property, go beyond highlighting the lifestyle your house or condo offers.


Create a space that buyers feel welcome in. Let the amenities and style that make your property unique stand out. Stage the property to play to its strengths, show off its interior luxuries and accentuate its appeal as a spectacular waterfront property.


Are you selling your Sarasota waterfront property and need expert guidance to position your property and maximize its value? Or are you a buyer ready to discover your next vacation residence, investment property, or forever home within walking distance to Sarasota's gorgeous waterfront?


Contact
Sarasota luxury real estate specialist Roger Pettingell
today to start your home buying or selling journey. From Longboat Key real estate to Bird Key homes for sale, allow Robert's years of experience and expertise be your guide to Sarasota's luxury real estate market.