Longboat Key is located on a barrier island of the same name. The island lies along the central west coast of Florida. Incorporated in 1955, Longboat Key is home to multiple beaches that face the Gulf of Mexico. It has a distinctive island environment and has experienced considerable appreciation over recent years. There are loads of public and private opportunities to get outdoors and take advantage of island living. These four are just a few of the many reasons people are relocating to Longboat Key.
1. Easy access to outdoor recreation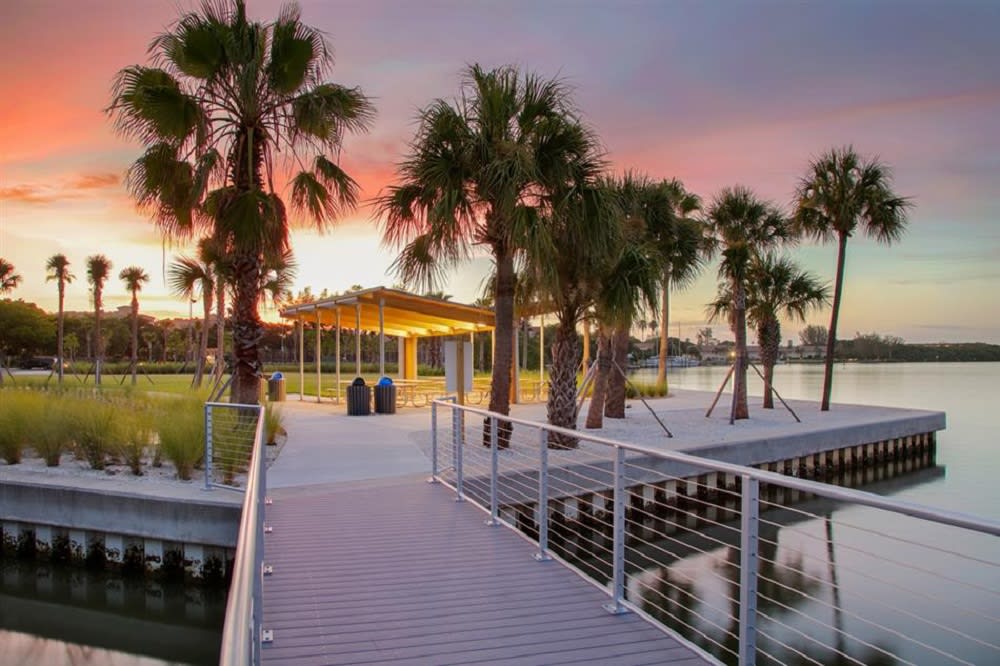 Credit: Bayfront Park
The main benefit of living on an island is the availability of ample outdoor activities. Less than one mile wide and 11 miles long, Longboat Key is the perfect place to be if you enjoy lying on the beach, spending your day in a boat on the water, or participating in outdoor leisure and recreational sports. Longboat Key residents have a number of beaches as well as several quality parks to choose from.

The Joan M. Durante Park is a thirty-two-acre site on Sarasota Bay, about two miles from the north end of the island. The park contains wetland and coastal dune forests and has won multiple awards, including the 1998 Outstanding Ecosystem Restoration Award from the Florida Urban Forestry Council. In 2014, play structures were added to the park. These structures, which are appropriate for two- to twelve-year-olds, are eco-friendly as they're made from recycled materials.

The Bayfront Park is a three-and-a-half-acre park with a plethora of family-friendly amenities. Children will adore the playground, and the entire family can use the basketball and tennis courts, followed by a snack at the picnic tables before heading to the beach across the street. Also located in the park is the Bayfront Park Recreation Center. The facility offers affordable leisure and recreational activities, organized sports leagues and activities, educational programs, cultural classes and seminars, social functions, and other special events.
2. Longboat Key Tennis Center
The Longboat Key Tennis Center is a public facility with many of the same benefits as a private tennis club. The 10 open tennis courts are available for open play sessions, tournament play, and a daily afternoon Round Robin League at 3:30. Visit the pro shop and score some brand-new apparel, equipment, and accessories. Need help with your backswing? Utilize video analysis and the assistance of the center's certified instructors. They'll assess your game and give you tips and lessons, which are sure to improve your tennis game.
3. Local dining options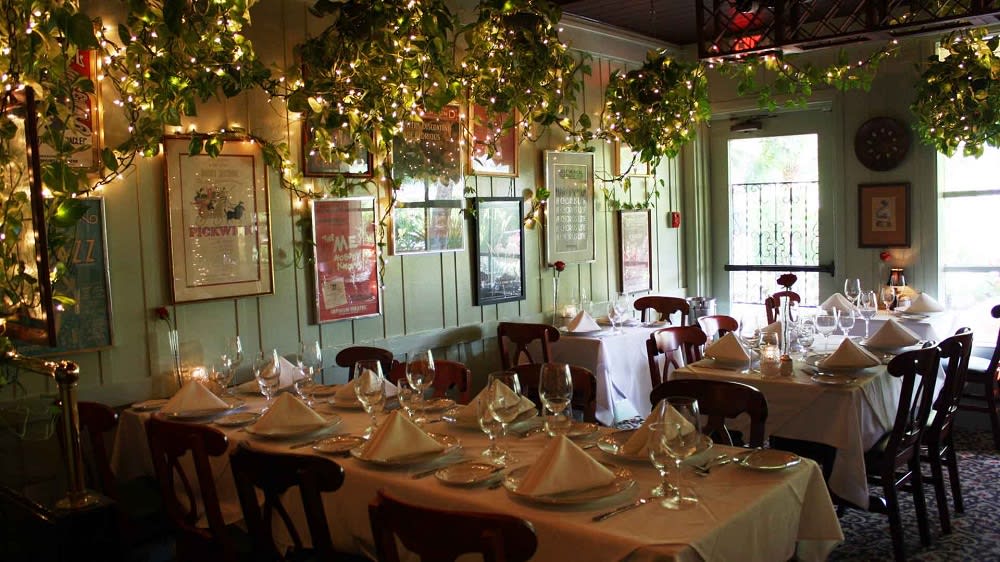 Credit: Euphemia Haye
The dining choices on Longboat Key range from laid-back to formal fine dining and often feature local, fresh ingredients. Recognized as the area's most extraordinary restaurant, the original 28-seat Euphemia Haye is an excellent example of the fare you can expect in Longboat Key. The Euphemia Haye has been operating since 1975.

The Haye Loft, which is located upstairs, was the original owner's apartment. It is now home to a gorgeous dark maple bar stocked with top-shelf wines and liquors. American and global cuisines are all made-to-order, and all bread, stocks, sauces, soups, and dressings are homemade. All fish is freshly caught, and all beef is trimmed in-house. When you dine at Euphemia Haye, you can be confident that your food is prepared with utmost care. Save room for dessert as you won't want to miss the Dessert Room. For delicious fare in a casual, no-reservations-needed environment, the Dessert Room is the place to savor desserts made daily by the pastry chef.
4. The Resort at Longboat Key Club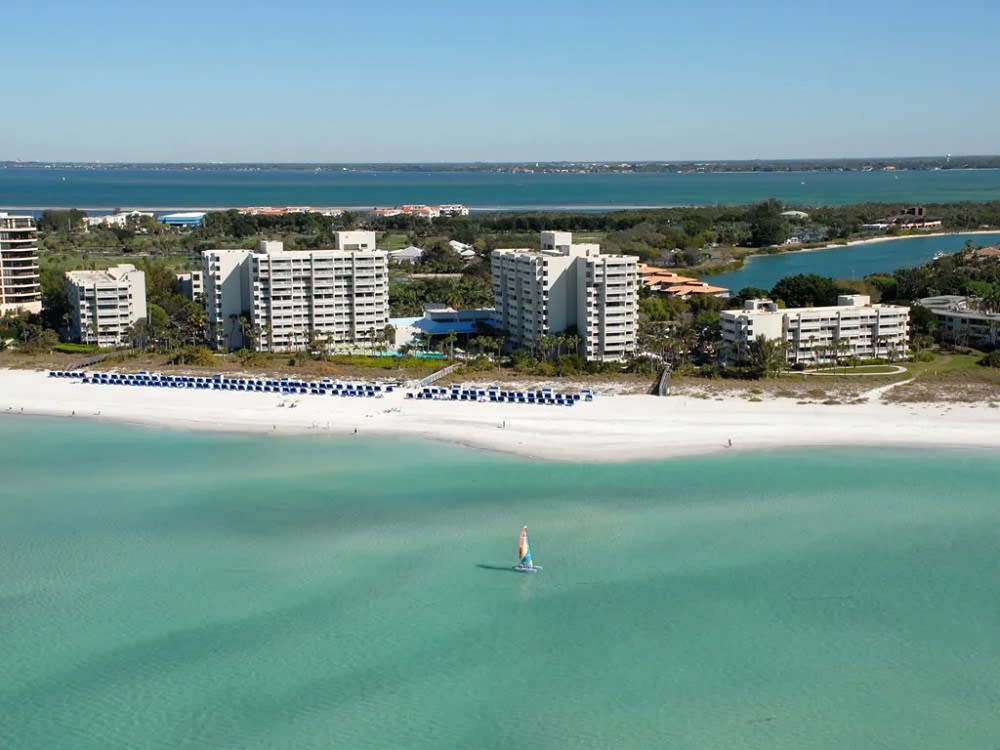 Credit: Conde Nast Traveler
The southernmost area of Longboat Key belongs to the ultimate paradise getaway, The Resort at Longboat Key Club. Slip away to a tropical locale with a white sand beach and private cabanas. Satisfy your culinary whims at one of five distinctive restaurants and lounges that range from casual to fine dining. Pair your meal with one of the exceptional Italian wines, and finish with an after-dinner drink from an extensive distilled whiskey and spirit collection. Spend a relaxing day at the spa with a facial and soothing massage, or use the award-winning leisure facilities. The resort schedules a variety of events and activities that appeal to guests of all ages. Calm your mind with some beach yoga or rent some water sports equipment and try out kayaking!

These offerings are just a peek into what the Longboat Key Club provides. Rest assured that the resort caters to everything you could wish for. In addition, the resort is the recipient of the Green Lodging certification, which means it's recognized as one of Florida's most environmentally conscientious vacation destinations.

Here's a deeper dive into the amenities afforded to Longboat Key Club members.

Golf

Golf is one of the most popular pastimes at the resort. Forty-five championship holes are spread out between two courses nestled against the beautiful Florida sky. The courses present players with plenty of difficult holes making for exhilarating games. The AAA Four-Diamond resort has earned Golf Digest's Best Places to Play award. Practice with your irons (as that's a common challenge among players at these courses) at one of two driving ranges. Upgrade your equipment or try on a new outfit at the fully stocked pro shop.

As soon as you've had your fill on the greens, take a breather at the Spike 'n Tees, an open-air restaurant that overlooks the links. This trendy spot serves breakfast and lunch, and many of the items are garden-fresh for healthier eating. Freshly squeezed juices, handmade smoothies, and a salad bar are all wholesome options at Spike 'n Tee.

Tennis

The tennis facilities at Longboat Key Club are definitely worth a visit. Twenty HAR-TRU courts have helped the tennis club win numerous awards and distinctions for the resort, such as the #4 Top Tennis Resort in the World by Tennis Resorts Online. The resort's state-of-the-art, USTA-certified infrastructure has been widely recognized. The patented HydroGrid watering system is an excellent example. The system allows for consistent, optimal playing conditions year-round. The on-site pro shop has been ranked #2 Best Pro Shop and provides regripping services, as well as apparel, top-notch equipment and accessories, and access to PGA-certified staff who are available for professional lessons and clinics.

Dining

The Spike 'n Tee offers only a small glimpse into the array of dining options at The Resort at Longboat Key Club. The newest addition is a fine dining restaurant, Latitudes. Dine indoors or outdoors for your favorite meal of the day, whether it's breakfast, lunch, or dinner, or stop by for drinks and a quick snack while you gaze at views of the Gulf of Mexico. From 7 a.m. to 4 p.m., guests can visit Latitudes' Walk-Up Barista & Juiceria and order coffees, teas, smoothies, juices, and specialty beverages. This is the perfect spot for a light breakfast on your way to the beach!

The Banyan Poolside Lounge uses the Latitudes breakfast and dinner menus. During the day, Banyan Poolside guests can relax in the laid-back, communal bar environment while sampling a number of items from the lounge's lunch and beach menu. There are gluten-free, vegan, and vegetarian choices for those with dietary restrictions or who just want a healthier option. The lounge is kid-friendly, so don't hesitate to bring the little ones with you.

You can continue your healthy food journey at the resort's farm-to-table restaurant, The Tavern & Whiskey Bar. The cuisine changes with the seasons as the highly trained chefs utilize the area's freshest dairy products, produce, and native seafood. Specialty items are occasionally pulled from the resort's eco-friendly garden to supplement the menu for a true farm-to-table experience. Whether you're new to whiskey or are a knowledgeable connoisseur, there's sure to be a spirit that suits your taste. The whiskey bar has over 100 varieties of whiskey and exceptional spirits. Browse the whiskey almanac and wine list, taste the smoked salmon off the lunch menu, or grab a quick bite from the tidbits menu at the bar.

Finally, there is Portofino, a ristorante and bar. This Italian marina-style restaurant features Longboat Key's freshest seafood, a variety of handmade pasta, and wood-fired, brick oven pizzas. Sip on a sample from the extensive selection of Italian wines as you relish expansive harbor views. Signature cocktails and live music await patrons on Thursdays and Saturdays for an all-immersive dining experience.

Relocating to Longboat Key and living the island life is a dream for many, but there are several key factors you should take into account before scouring ads for condos for sale in Longboat Key. Being close to or on the waterfront can pose some unique challenges, and you'll want a realtor who knows about these types of properties. Contact premier Longboat Key real estate agent Roger Pettingell when searching for your ideal piece of Longboat Key real estate.